Benztropine Mesylate Injections Manufacturers in India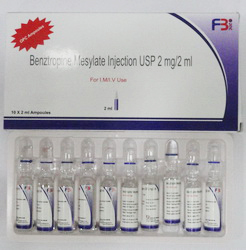 Benztropine is used to treat the symptoms of Parkinson's disease. It's also used to regulate severe reactions to certain medications that are used to treat nervous, emotional and mental disorders. These may comprise perphenazine (Trilafon), fluphenazine (Prolixin), chlorpromazine (Thorazine), and others. You may have to take benztropine for a long time to treat Parkinson's disease. However, you may only need it for one to two weeks if your tremors are caused by other medical problems or medications. 








Indications
For use as an adjunct in the therapy of all forms of parkinsonism. Useful also in the control of extrapyramidal disorders (except tardive dyskinesia) due to neuroleptic drugs (e.g., phenothiazines).