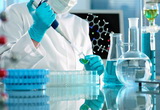 Flagship biotech had established A state-of-art Research and Development Centre (R&D) at Mumbai - focused towards developing new products, improving existing products as well as drug delivery systems and expanding product applications. These R&D Centre have highly experienced team of scientists having post graduate and doctorate degrees in the field of pharmacy and chemistry.
The R & D Centre is competent to handle an entire activities from Product Identification, Lab Scale Development to full scale Batch Manufacturing.
The Centre supports design and register formulations in its various markets, detailed study and documentation is generated with the help of regulatory department for various country specific registrations for ROW Countries.
Our R&D capabilities include

Formulation & Research Development
Dedicated Regulatory Team for Global Filings
Dossier Development
Chemical Synthesis
Process Optimization
Analytical Development
Conducting Stability Studies
Our strategy focuses on

Developing new drug formulations for existing and newer drug substances.
Conducting Clinical and Bio-Equivalence studies for obtaining regulatory approvals for new products and services.