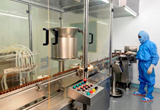 Flagship Biotech International provides the advanced manufacturing capabilities and processes that create special quality of Generic Products.
The reputation of our company is built on Manufacturing and R&D facilities that are designed to meet Global Standards, and Stringent Quality standards that ensure we deliver only the best formulations and products.
Our state of the Art Manufacturing Facilities maintaining high Quality Standards at every further stage and Manufacturing process are located in Tarapur near Mumbai (Maharashtra, India) Navsari, Naroda (Gujrat, India), Baddi (Himachal Pradesh, India)
Manufacturing facilities with the quality standards of global regulatory authorities including the WHO – GMP, US FDA, MCC, PICS HEALTH CANADA and various other approvals.
It has capability to manufacture high quality Solid & Liquid Dosage Form, LVP, SVP, Speciality Injectables, Powder for Injections, Inhalers, Ointments and Creams etc.
We have cost leadership with large scale, complex products.
The company endeavors to Manufacturing rich array of Quality Formulation supported by its strong Formulation & Development department and State-of-Art Manufacturing facilities for its own market and for several reputed organizations in India and Abroad. The company is committed to implement Good Manufacturing Practices (GMP) and Good Laboratory Practices (GLP) in its pursuit of continues business growth.