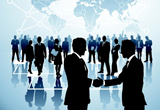 Flagship Biotech International Pvt. Ltd. is one of India's fastest-growing and leading Generic and Specialty Pharmaceutical companies engaged in Developing, Manufacturing, and Marketing a broad range of Pharmaceutical Formulations. Over the past many years since its incorporation in the year 2008, we now have more than 700 pharmaceutical Formulations in various dosage forms like Solid Dosage Form - Tablets, Capsules, Dry Powder for Orals, Liquid Orals, Small Volume Parenteral (SVP), Large Volume Parenteral (LVP) & Powder for Injections, Ointment, Creams, Inhalers, and Herbals are Marketed across the Globe. Currently, Flagship Biotech International operates in more than 75 countries worldwide having more than 750 products registered.
Flagship Biotech International has an extensive presence in many countries in Asia, Africa, Latin America, CIS, Australia & Pacific Ocean with a broad product portfolio to suit the needs of each country. Commitment and Consistency in fulfilling the needs and demands of clients and customers is what helped the company earn the faith of the customers.
We believe that our competitive advantage in the International Market lies in our established presence in all major therapeutic areas including Oncology, Anti-Diabetic, Cardiology, Pain and Analgesics, Gynecology, Anti-invective, Vitamins, Minerals, Nutrients, Gastro-Intestinal, Anti-Osteoporosis, Anti-Malarial, Immunosuppressant, Anti-Bacterial, Anti- Asthmatics, anti-Allergy, etc.
Our state of the Art Manufacturing Facilities which maintain high-quality standards at every further stage in the manufacturing process is located in Baroda (Gujrat, India). The manufacturing facility complies with the Quality Standards of global regulatory authorities with WHO – GMP Approval. Our R&D capabilities include Formulation Research & Development, Analytical Development and Conducting Stability Studies, Chemical Synthesis, Process Optimization, and Dossier Development.
Apart from the manufacturing unit the company is now indulged the Critical Care (Anesthesia) Range and the Ophthalmic Range (EyeOn)