Internationally benchmark - Quality and Regulatory systems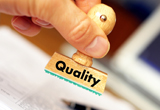 Flagship Biotech International strives to meet the demands of our goals by specifically focusing on the basic fundamentals of Excellence - Innovation, Quality and Service, We believe that customer satisfaction, in terms of quality, delivery and after sales services, is our first and foremost responsibility.
We are committed to Manufacture & Supply drugs of the highest quality, thus improving the people's Quality of life.
This objective is achieved by following Good Manufacturing Practices and Local & International Rules and Regulations applicable to our operations. In addition to that, Flagship is awarded the ISO 9001:2008 and with an outstanding track record for maintaining quality, we continue to operate as one of the India's top-notch Quality Control and Analytical Research Laboratories.
Quality control


Flagship Biotech International focuses on Quality Control (QC) and Quality assurance (QA) as these are our strengths and the key differentiators. Strict adherence to cGMP norms as well as our efforts towards continuous improvement of our Product, Processes and the Skills of our work force enables us to improve our offerings to our customers and consumers on a regular basis.
We have a modern and well-equipped Quality Control (QC) Laboratory, which ensures that our products are Pure, Safe and Effective and are released only after thorough analysis as per stringent specifications, methods and procedures developed according to international guidelines.
Our QC department has all necessary instruments for Analysis of API, Finished Products, Packaging and Related Materials used.